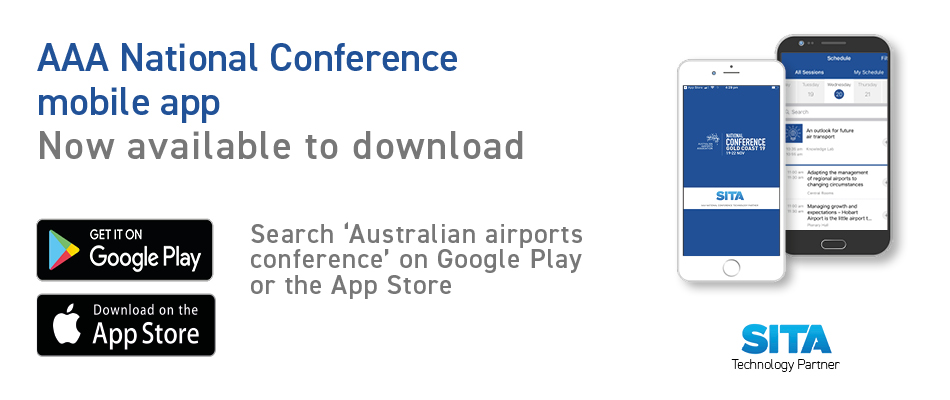 Join us on the Gold Coast in
"We look forward to welcoming you to the Gold Coast for the 2019 Australian Airports Association's (AAA) National Conference."
The AAA National Conference is the pre-eminent aviation conference and exhibition in the Asia Pacific Region and in 2018 attracted over 800 delegates from Australia, New Zealand and internationally.
This year's program is focused on sustainability, technology, security, customer and commercial aspects of the aviation industry.
With increased content relevant to regional council mayors, councillors and CEO's as well as the traditional airport manager related content.
The Industry Exhibition will return to the Tuesday to Thursday and will offer incredible opportunities to network. To maximise the time spent by delegates in the Industry Exhibition catering will be held in this space.
The 2019 AAA National Conference will offer more ways than ever to connect with all sectors of the aviation industry.
We look forward to seeing you on the Gold Coast for the 2019 AAA National Conference and Industry Exhibition.
Caroline Wilkie
Chief Executive Officer
AAA
The Australian Airports Association
The Australian Airports Association (AAA) is the national voice for Australian airports and represents the interests of over 360 airports and aerodromes across Australia.
The AAA also represents more than 160 aviation stakeholders and organisations that provide goods and services to airports. The AAA facilitates co-operation among all member airports and their many and varied partners in Australian aviation, whilst contributing to an air transport system that is safe, secure, environmentally responsible and efficient for the benefit of all Australians and visitors.
The AAA is the leading advocate for appropriate national policy relating to airport activities and operates to ensure regular transport passengers, freight, and the community enjoy the full benefits of a progressive and sustainable airport industry.